Super cool that it no longer has to be a feeling of 'it shouldn't be', my way of working.
In which I was secretly taught in the early 1990s when I completed my HBO Speech Therapy course as a permanent part of the voice treatment, while it was seen as very controversial at the time,
In which, in my more than 25 years of work experience, I have seen what, despite the fact that it was very controversial, applying it in my practice as a voice professional and speaker coach brings a movement and effect to everyone I work with,
May there finally be.
The Polyvagal Theory.
It gives hands and feet to the functioning of the Vagus Nervus, to the functioning of our central nervous system, to the functioning of the human voice, to the way we speak, to the way we communicate with each other.
Very proud and happy with my official certificate!
#NervusVagus #PolyvagaalTheory #PVT #DrStephenPorges #DebDana #NervousSystem #Voice #Speech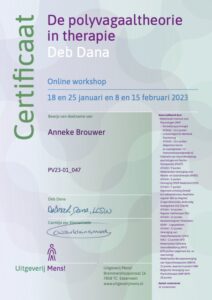 Anneke Brouwer Systemic – Dialogic Speaking Coach | Executive Voice Expert | TedxInsead Coach | TEDxWassenaar Organiser
Praktijk voor Stemtraining en Systemische – Dialogische Sprekerscoaching van Executives
info@annekebrouwer.nl
06-10721812